So today I was flipping through the Chronicle and I saw that the Austin Museum of Art is having this exhibition called, "Where Are We Going? Contemporary Artists Address Issues of the 21st Century"...
Anyhow, one of the artists that caught my eye was Kehinde Wiley. I first learned about him through Vanity Fair magazine. He brings modern and traditional together. He definitely has a particular style... traditionally featuring African Americans in heroic...jesus-like... louis xiv...madonna...-like poses against patterned backgrounds. Anyhow, I feel like he could appeal to a lot of people. It's not blatant abstract expressionism that people either love or hate... it's not traditional Renaissance style paintings... or landscapes... it's fresh. it's so sweet... haha. I don't know how much of his work is really featured in this exhibition, but I really want to go and see it anyway.
Here are some of Kehinde's pieces if you're unfamiliar with his work: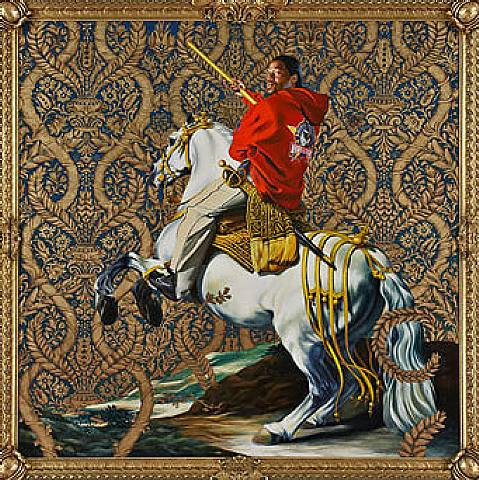 Pretty amazing, right?
Let me know if you want to go. :) It goes from August 30 - November 2.
BTW, my Flickr has been updated with tons of fisheye pictures from China, Rachel's 19th Birthday Party, and TX4 Karaoke for Mickie... :) Check it out.
<3 Frances