I hope everyone has a safe trip home, wherever their respective homes are.
I will be in Dallas until Saturday... maybe Sunday.
I plan on going crazy on
Black Friday
. It's a yearly tradition for me and it always always always pays off. It is probably the best day of shopping ... ever. From the research I've done, Circuit City seems like the winner over Best Buy right now. Of course, Target and Northpark will be hit up. QT for some 4 a.m. coffee, mmm. And I will raid Nordstrom Rack this weekend like never before. I just want to spend some freaking money and release my stress...
There's also this party downtown on Black Friday... mayhaps I will go with one of you?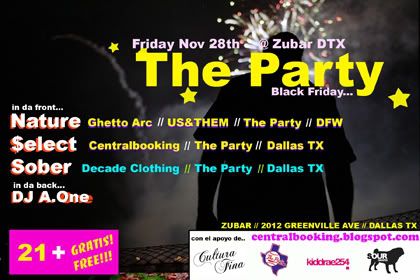 I pretty much just want to avoid my huge marketing analysis and presentation I have to have done by Monday. and my journalism test I have on Monday. and my international business test I have on Monday.
---
Anyway, I also wanted to say I tried
Cookie Lounge
with Dani last week. I got a medium Creamy Brown Sugar cookie with El Rey White Chocolate and it was pretty amazing. I wouldn't say it's comparable to Tiff's Treats just because it's more custom-made and gourmet. Tiff's Treats has better comfort cookies... like the kind you want to make at home but it never turns out the way you want. Cookie Lounge is like... who puts these crazy ingredients in their cookie? I don't know but it's damn good. Anyway, it's by Pluckers on 23rd and Rio Grande.
---
Last week I had a little fun with my friend Jennifer and Chris.
The Daily Texan popped along near the end when we were by the Hi, How Are You frog.
---
And lastly, here is Charlie in the American Apparel Fleece Dog Vest he he..
Have a good thanksgiving!!
x,
Frances